As more people rely on several applications, having all of them in one place becomes increasingly important. The capacity to work from anywhere, at any time, and on any device will be helped by centralized apps, especially for professionals who require access to multiple applications simultaneously. As we all know, Office 365 is a subscription service that provides access to office suites like Word, Outlook, and Excel, but Dynamics 365 is a cloud-based solution that includes everything you need for CRM and ERP in one package. It allows access to additional productivity features made available online. Thus, Office 365 consists of comprehensive solutions that will help your organization become more efficient and productive. Continue reading to learn more about Microsoft Dynamics vs Office 365.
What is Microsoft Dynamics 365?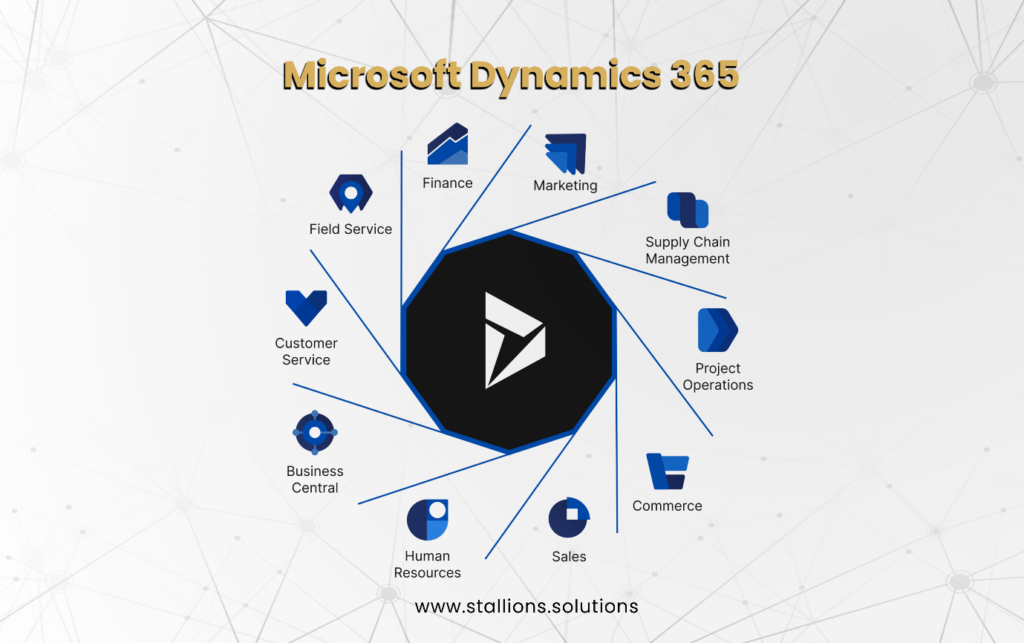 Microsoft Dynamics 365 is a cloud-based suite of enterprise resource planning (ERP) and customer relationship management (CRM) applications. It is designed to help businesses of all sizes streamline their operations, improve customer engagement, and make data-driven decisions.
Dynamics 365 offers a range of integrated applications that cover various business functions, including sales, marketing, customer service, finance, supply chain management, and human resources. These applications are built on a common data model and share data seamlessly, enabling businesses to have a unified view of their operations and customers. Dynamics offers a variety of apps that can help you manage your business, whether you're a small start-up or a large enterprise.
There are two main versions of Dynamics 365: Professional and Enterprise. Depending on your preference, you may have access to various beneficial tools and programs that can help with multiple business-related tasks, including marketing, sales, customer insight data, customer interaction, and many more.
In the end, Microsoft Dynamics 365 can help you develop customer relationships and provide insight into the customer journey. Customer data is essential to have on hand, and Dynamics makes obtaining and analyzing customer data simple.
What is Microsoft Office 365?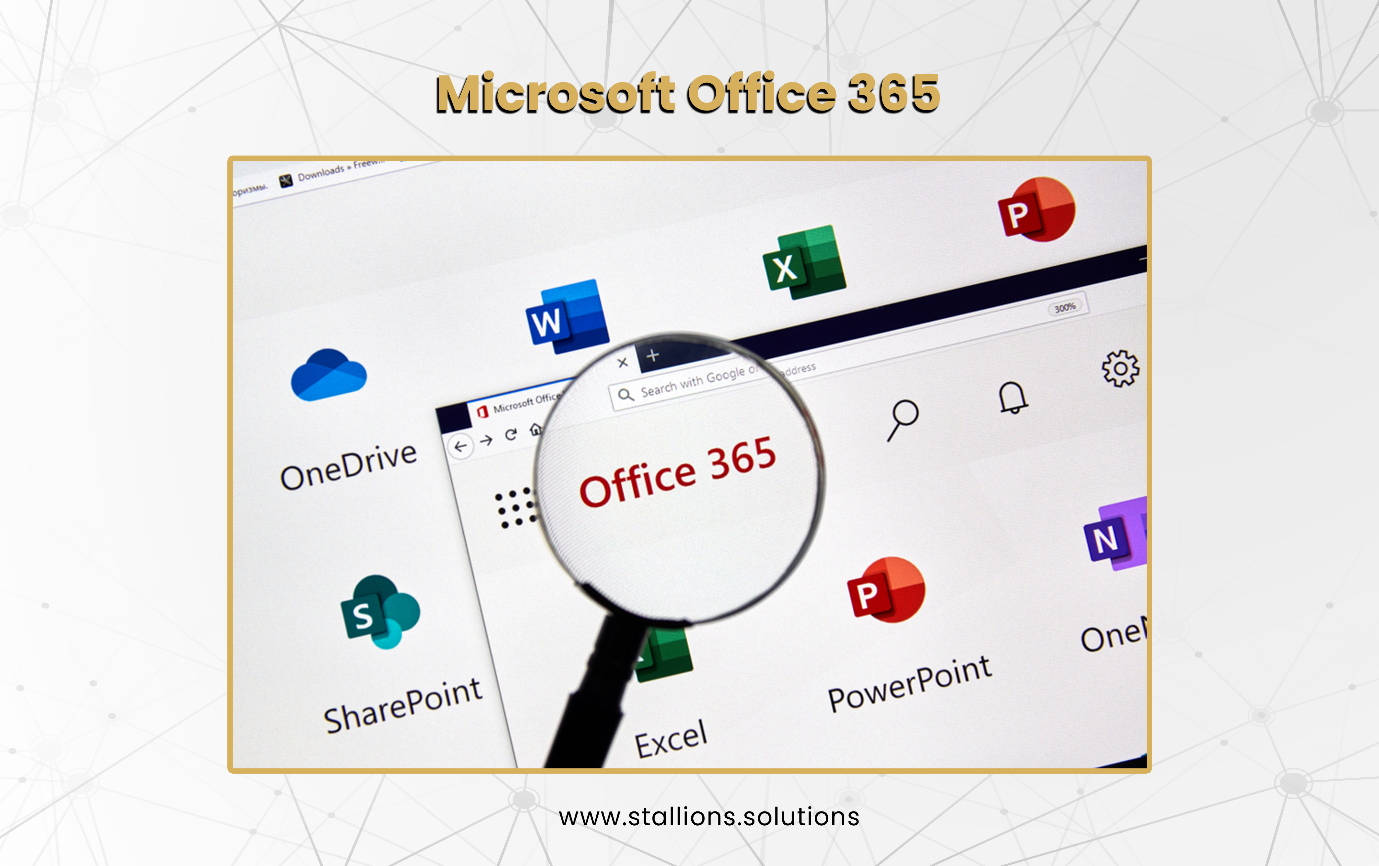 Microsoft Office 365 is a cloud-based office suite with Mail, Word, PowerPoint, and other tools. Furthermore, Office 365 and many other services, such as Windows 10 Enterprise, are all included in the service package known as Microsoft 365.
What are the uses of Microsoft Dynamics 365?
Microsoft Dynamics can be used for:
Connecting people, processes, and data across several systems, including Microsoft Dynamics 365, Office 365, LinkedIn, and Azure, to unite your company as a cohesive unit.
Making better decisions with integrated AI, data, and suggested guided actions.
Adapting the application to your demands rather than modifying your business methodology. Many programs can be customized with Microsoft Power Platform or integrated with current systems.
For progressive company innovation, modernize your strategy by combining AI, mixed reality, social media, and mobile capabilities.
Discover more about using Dynamics 365 to manage your business
Here are multiple options for integrating O365 features with Dynamics 365:
1. Excel With Dynamics 365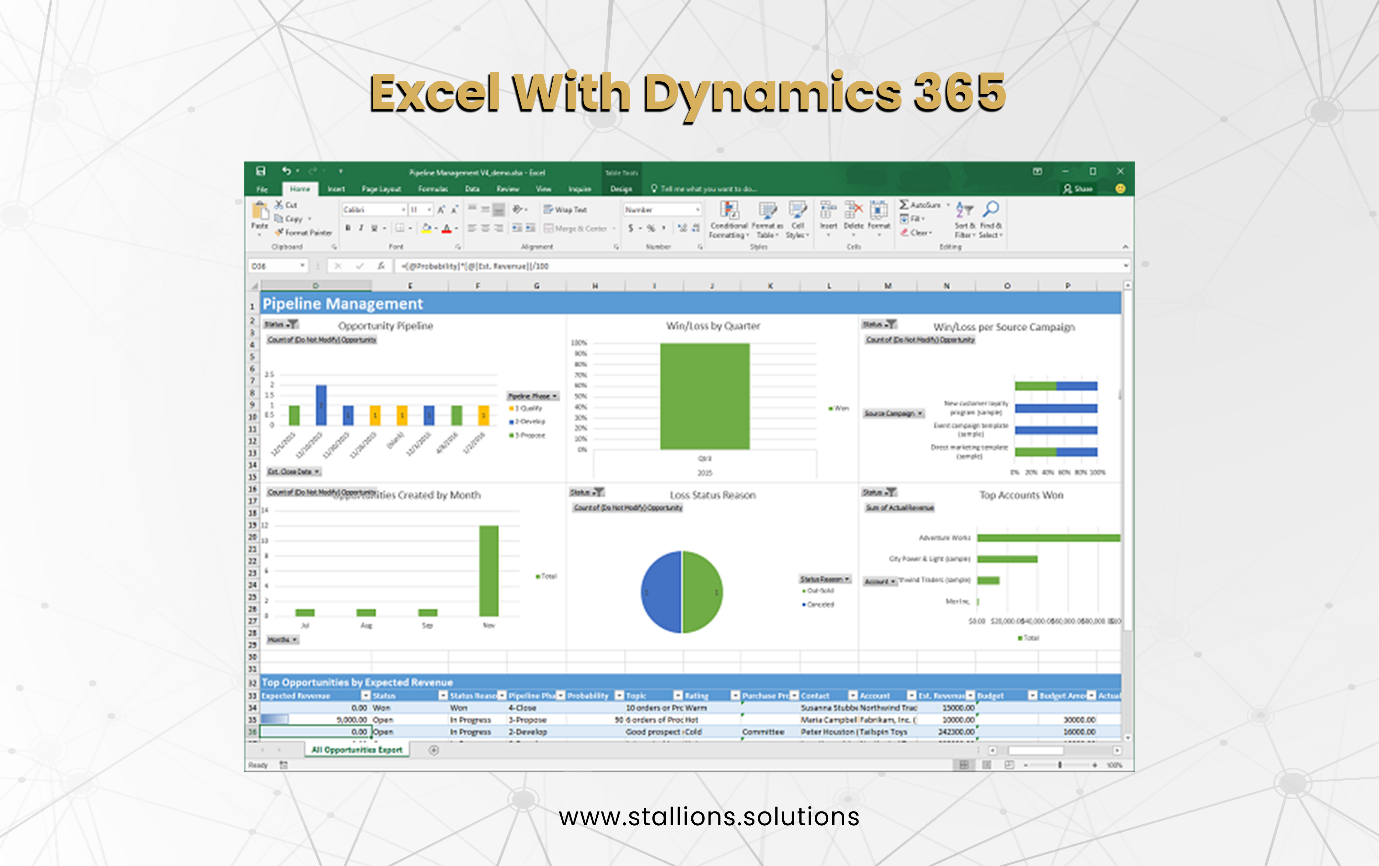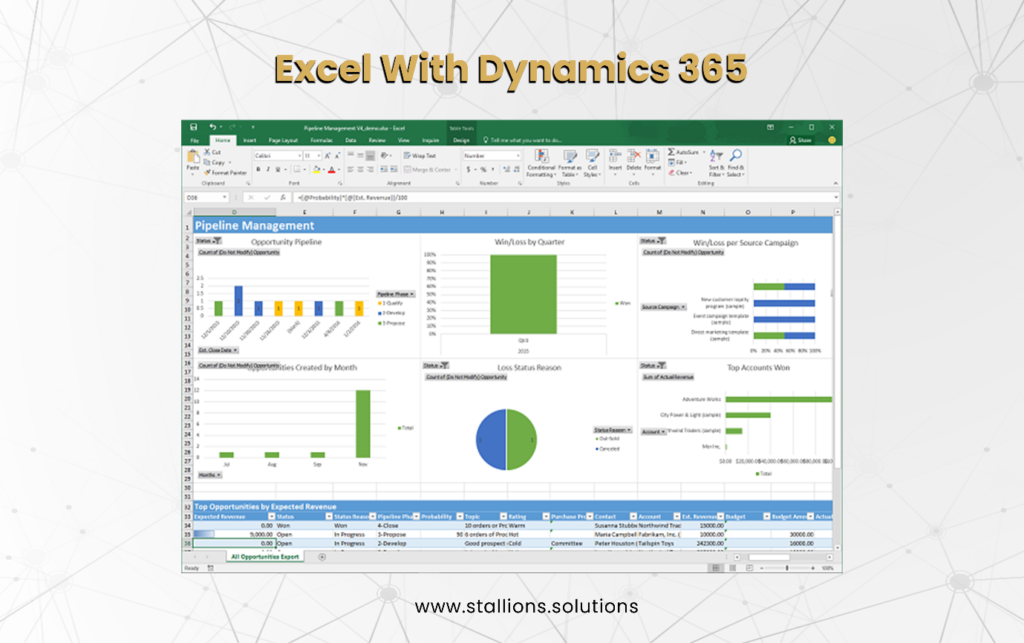 When there is a need to update many records, rather than going through the stress of modifying them individually, updating the records in Excel online from within Dynamics 365 is quicker.
Similarly, you don't need to leave the application for data analysis. Use Microsoft Excel Online from the platform to do all required data analysis. When completed, the modified data is saved in Dynamics 365.
Reporting is another way to link Excel with D365. Excel allows for advanced data analysis functionalities; therefore, you can use Excel to examine your results. Your reports will automatically be updated if the Excel data is linked to the platform.
2. Word With Dynamics 365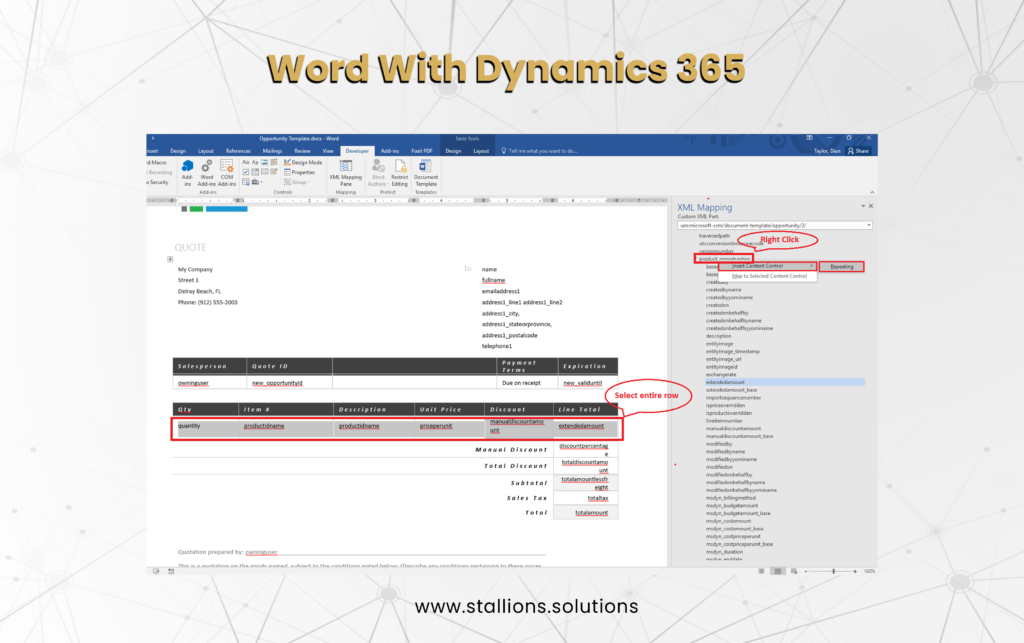 Use the Microsoft Word templates provided by Dynamics 365 to access Microsoft Word and take advantage of its great features. Use Microsoft Word templates, for example, to give a company a professional document. You can create a document's layout using Word templates, just as you would with the standard version of Microsoft Office Word.
This is quite helpful while creating documents. It saves a lot of time compared to making a new copy each time you work with similar records. Additionally, combining client data with a Word template for writing summaries is simple.
3. Outlook with Dynamics 365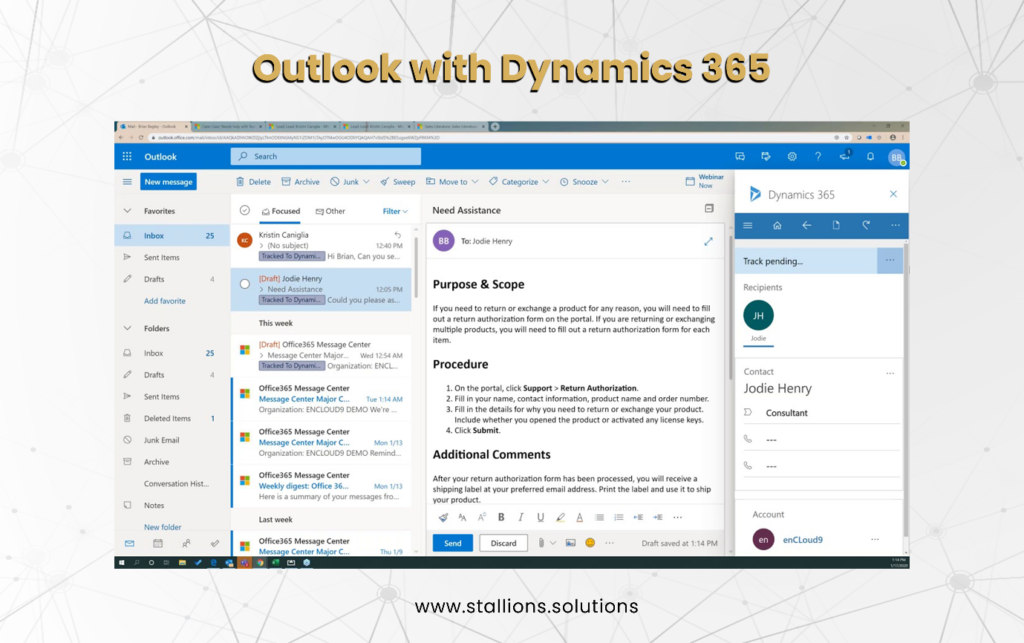 Another innovative approach for using the Dynamics platform with Office 365 is connecting with Outlook. With the help of this integration, you can:
With ease, track your emails.
With just one click from Outlook Calendar, you can track meetings and client meetings while viewing sales activity information.
From Outlook, create new Dynamics records.
Create activity lists in response to emails automatically scheduled as tasks and added to the customer record.
4. SharePoint with Dynamics 365
Microsoft SharePoint is a collaboration and document management application that helps in storage space maintenance. You may decrease your data storage and save essential database space when using Dynamics 365 integration.
Customer data from SharePoint may be accessed with this integration. The customer record is then automatically updated with documents containing the customer data.
You may easily work with users outside your organization and even share documents by utilizing the document management capabilities of Microsoft's SharePoint from within Dynamics 365.
5. OneNote with Dynamics 365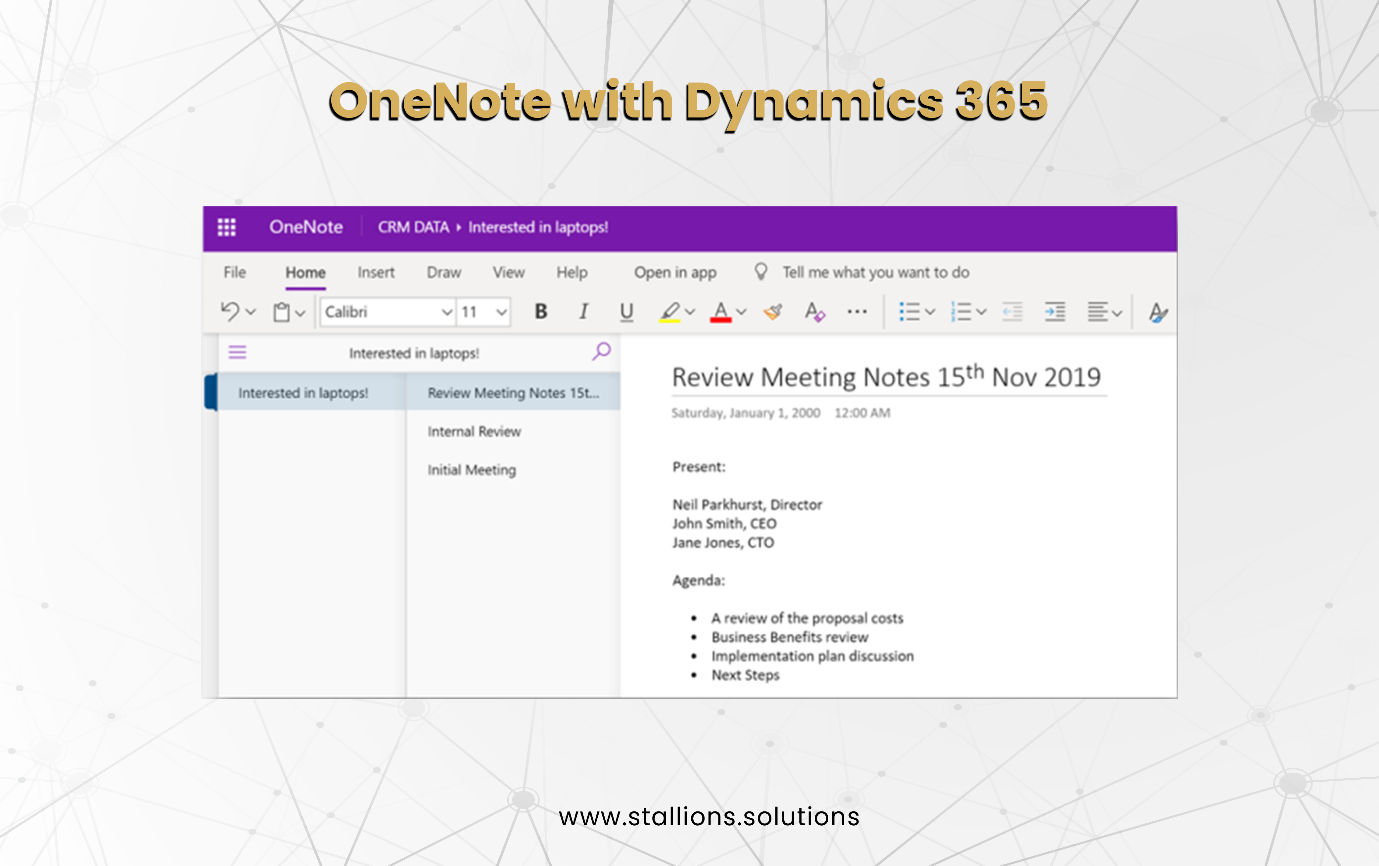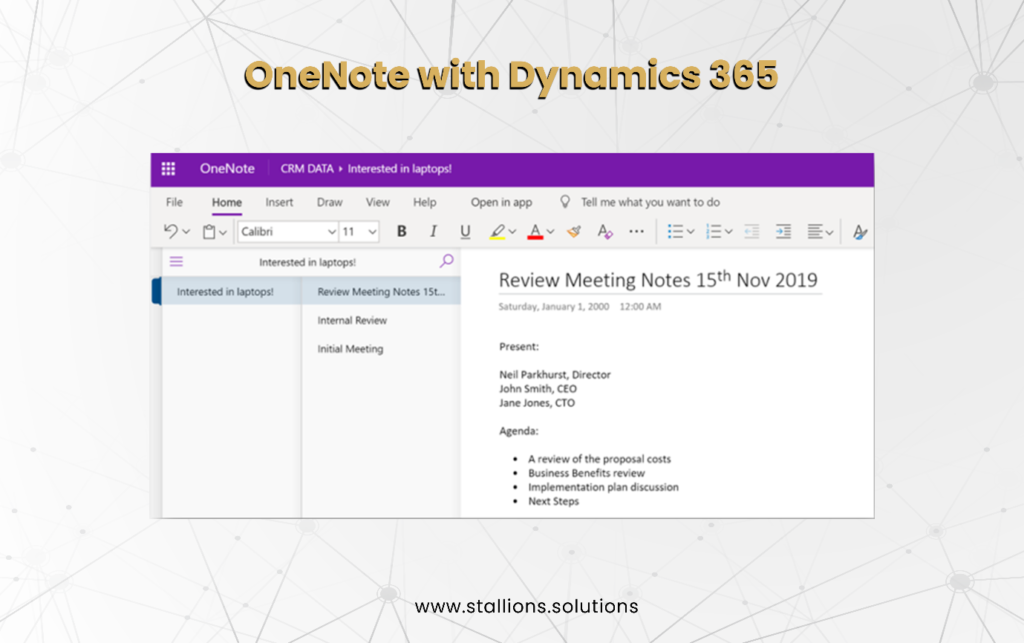 You may take notes anywhere with the OneNote software, a portable digital notebook. Using OneNote with Dynamics 365 allows you to create and edit notes within an activity wall record for specified entities on the web and mobile apps.
Another advantage is linking your devices to Dynamics 365 lets you quickly take, arrange, and store notes and photographs on any device. It should be noted that this integration requires SharePoint integration and is only accessible for Dynamics 365 Online deployments. It should be noted that this integration requires SharePoint integration and is only available for Dynamics 365 Online deployments.
6. Social Engagement with Dynamics 365
Social engagement provides insights into social media data, allowing users to identify new trends from their comments on subjects. It offers Dynamics 365 users real-time information on how clients use social media.
You can empower your team by connecting Social Engagement. As a result, you will be able to identify what you're doing well and solve any possible problems before they become more serious.
7. Skype for Business with Dynamics 365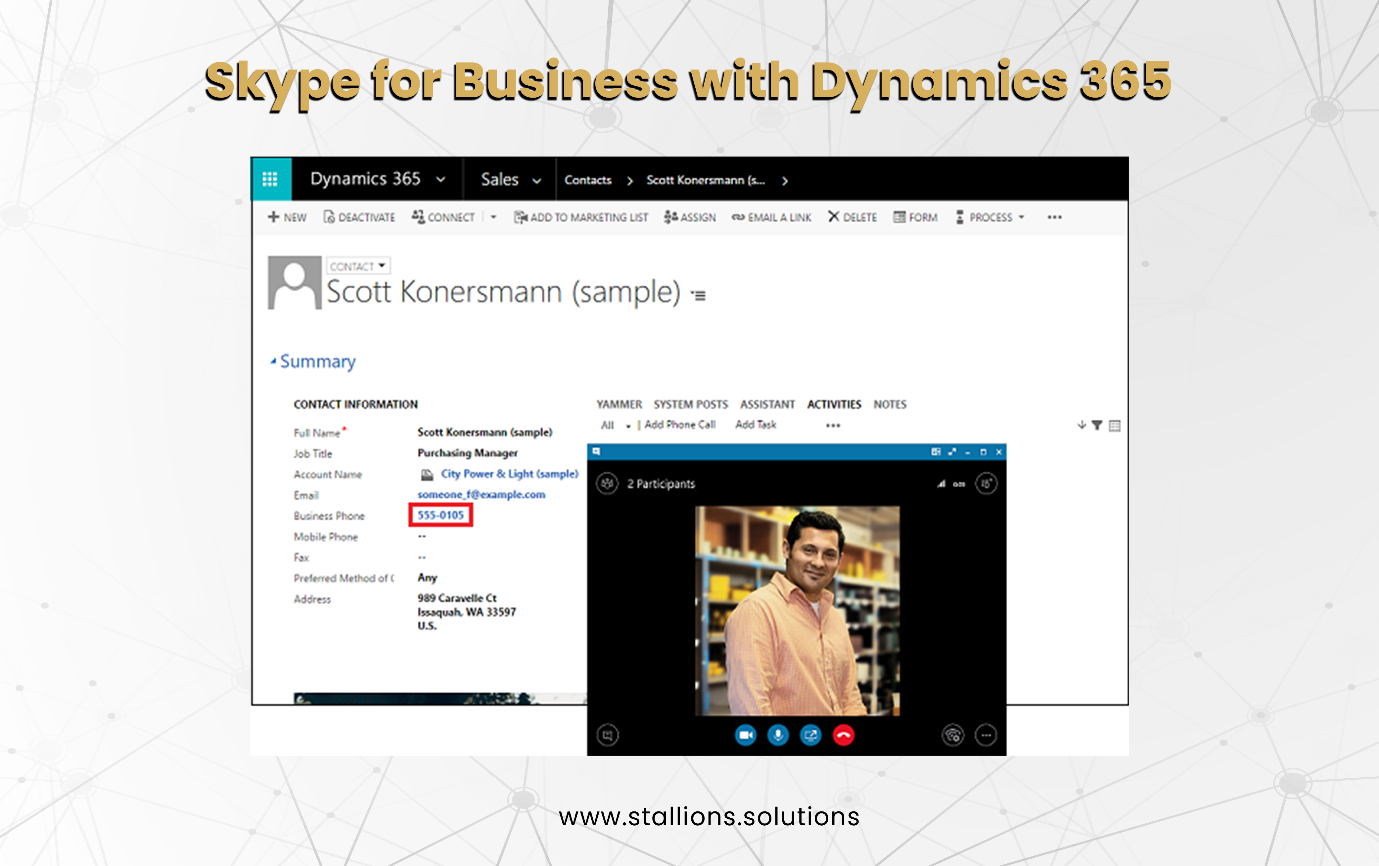 With access to multiple features, using Skype for business can greatly benefit your organization. Among these advantages are:
Ability to communicate with clients, coworkers, and team members in real-time without leaving the platform. To call someone, click or tap their phone number.
Record meetings as an activity.
See Skype for Business presence information for users in the same email domain as you from within Dynamics.
Use Skype for Business to host webinars or meetings and immediately send the attendees a copy of the event's recording.
8. Power BI with Dynamics 365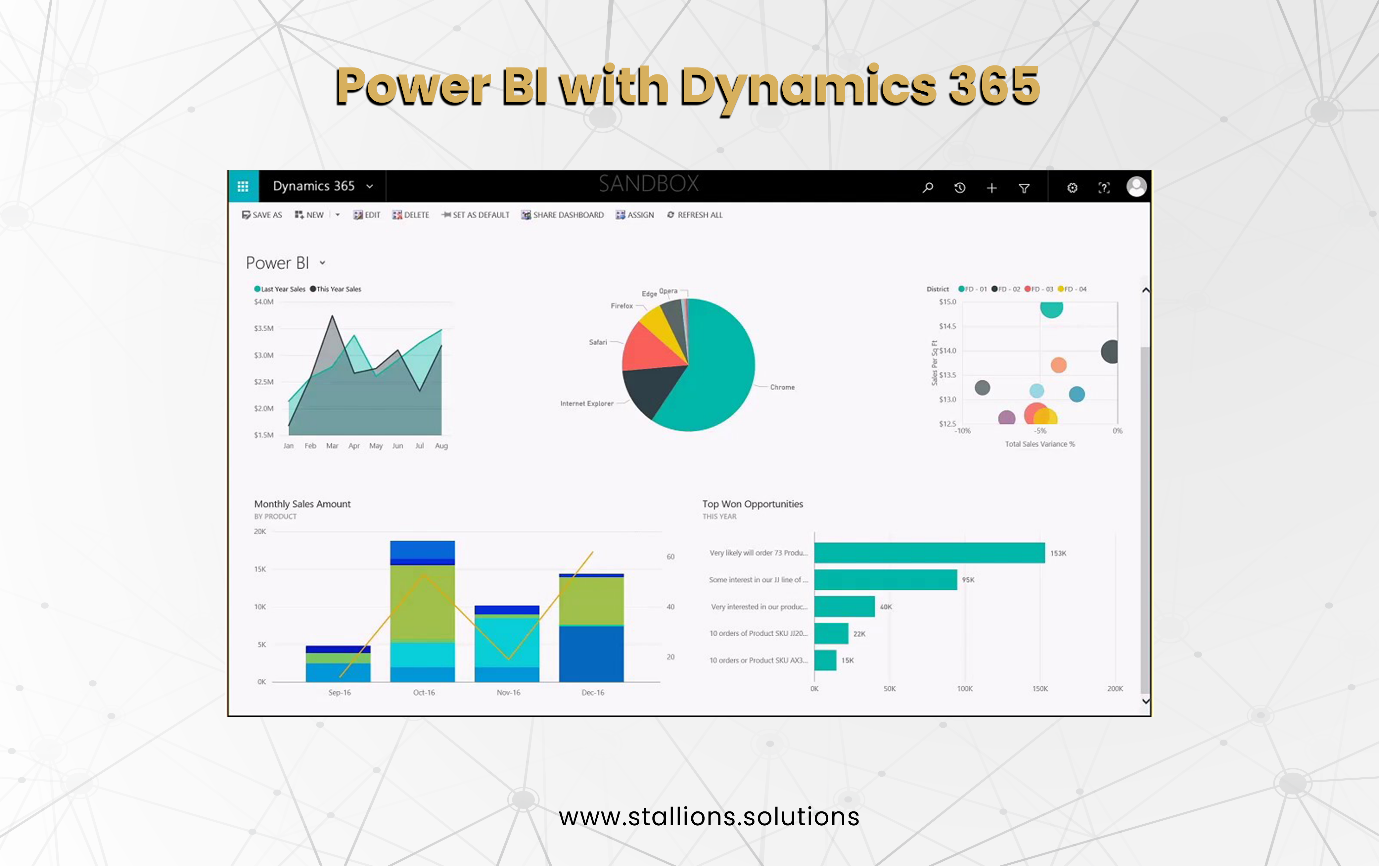 Power BI is an Office 365 online service that may be linked to Microsoft Dynamics 365 to provide a self-service analytics solution. Power BI automatically updates the data provided by Microsoft D365 (online).
With Power BI, you may use its cloud-based business intelligence and analytics tool to understand how you can improve your processes and gain insights into the business history of your clients. For sales and performance forecasts, you can easily obtain data from Dynamics, analyze it, and format it using Power BI's strong graphics.
To take advantage of the benefits of integrating Office 365 and Dynamics 365, add it to your Office subscription. This will help you work with customers more effectively.
It will become a more powerful tool when Microsoft Dynamics 365 is integrated with Microsoft O365. Smooth and simple integration is achieved. Introducing a new level of efficiency and collaboration that makes work easier for everyone is designed to empower every person and organization. The result is a cost-effective, flexible solution that increases your company's competitiveness and customer focus.
Dynamics vs Office 365: Key Differences
Although some people compare Dynamics and Office 365, they have benefits and drawbacks.
Dynamics 365 provides cloud-based software solutions that you may use for CRM and ERP, as was already mentioned. Dynamics 365 technology is available in a single package, unlike Office 365, where you can subscribe to access several Office programs (such as Excel, Outlook, Word, etc.).
Microsoft Office 365 is a subscription-based productivity package available online, on-premises, and in the cloud. Office 365 ultimately encourages company productivity and efficiency – you can utilize Office to optimize your business operations, enhancing productivity across the board.