Maximize your productivity and minimize your risk: Agile methodology offers a proven path to success in software development.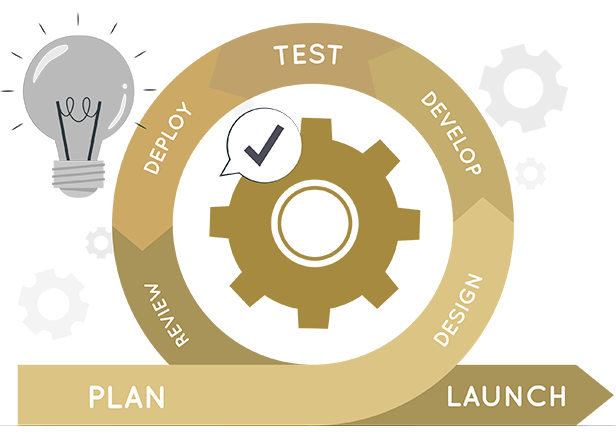 Product Retrospective Feedback
In this stage, we track and create your product story which compile and make up concepts.
Notes: User stories cannot become part of the sprint if they are not fully ready to be put in the product backlog list.
Once we have a clear idea of the scope of your project, then we look for the best way to get it done. With sprints to reduce time for measuring feedbacks and updates. This is helps you to see witness development changes during the cycle. At planning phase, we breakdown:
We break down user stories into smaller tasks and add them to the sprint backlog. Use a Kanban task board to help keep track of all the software development processes. We specify information through board cards such as:
Sprint goals demand demonstrable, working products. We resolve all bugs from the previous sprints and not carry them over into the next sprints. This is how we manage our legacy code. Here are best practices for beta testing and demo:
This is a step in which we demonstrate open communication with stakeholders. We hold in-person or video conference meeting to build a relationship and discuss product updates and show the finished product.
6. Product Retrospective Feedback
Conduct a sprint retrospective meeting with stakeholders to discuss the aftermath of complete development cycle, such as:
Main Roles fill-up Agile Development Cycle
Your Take Aways with Agile Methodology
Agile methodology involves forming teams and using multiple developers on each project, which can help push back on unrealistic workloads. To manage this, managers may need to scale down lesser priority projects and products. Key takeaways include better workload management and prioritization.
Agile Tools and Techniques we Deploy at Stallions Solutions
All software development approaches are adaptable and predictive in nature. The Agile SDLC falls under the adaptive category, while the V-shape, Waterfall, Iterative, and Spiral models are under the predictive group. They are all created with different development needs and expectations.
Achieve Success With Stallions Solutions, Trust Microsoft Gold Partner
Whether you're just getting started or looking to enhance existing solutions, you need to work with a trusted partner to get the best ROI from your Dynamics 365 technology investment. As a leading Microsoft Partner, we deliver Expert guidance and support in selecting, implementing, and optimizing Dynamics 365 Solutions tailored to meet your business needs. Our team of ERP and CRM Solution Experts have the experience, business and technical knowledge to design and implement best-in-class solutions.
Industry Knowledge Expertise
With over 100+ implementations, our experience across various industries, including retail, manufacturing, and services, position us to expertly deliver any project across the globe using a mix of both offshore and onshore resources.
Comprehensive Structured Approach
We meticulously assess your business environment and propose a pragmatic approach as per the complexity and size of your organization to ensure a swift, smooth, and secure deployment.
Microsoft Dynamics Expert
At Stallions Solutions, we believe that every business is unique. Our team of experts brings together the right mix of technology and operational know-how to resolve the most complex business challenges.