The Agile methodology for software development is a structure of stages from beginning to end. It contains six phases and help product owners and developers to develop high-quality product much quicker.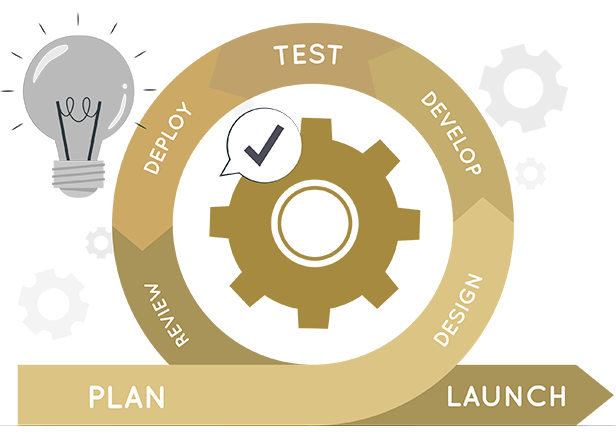 Product Retrospective Feedback
In this stage, we track and create your product story which compile and make up concepts.
Notes: User stories cannot become part of the sprint if they are not fully ready to be put in the product backlog list.
Once we have a clear idea of the scope of your project, then we look for the best way to get it done. With sprints to reduce time for measuring feedbacks and updates. This is helps you to see witness development changes during the cycle. At planning phase, we breakdown:
We break down user stories into smaller tasks and add them to the sprint backlog. Use a Kanban task board to help keep track of all the software development processes. We specify information through board cards such as:
Sprint goals demand demonstrable, working products. We resolve all bugs from the previous sprints and not carry them over into the next sprints. This is how we manage our legacy code. Here are best practices for beta testing and demo:
This is a step in which we demonstrate open communication with stakeholders. We hold in-person or video conference meeting to build a relationship and discuss product updates and show the finished product.
6. Product Retrospective Feedback
Conduct a sprint retrospective meeting with stakeholders to discuss the aftermath of complete development cycle, such as:
Main Roles fill-up Agile Development Cycle
Your Take Aways with Agile Methodology
Agile methodology form teams and use several developers on each project, with which the business can no longer support as many projects as it once did. Development teams, as opposed to individual developers working alone, have an easier time pushing back on unrealistic workloads, which would necessitate managers beginning to scale down lesser priority projects and products. Here are your key takeaways with agile development methodology:
Agile Tools and Techniques we Deploy at Stallions Solutions
All software development approaches are adaptable and predictive in nature. The Agile SDLC falls under the adaptive category, while the V-shape, Waterfall, Iterative, and Spiral models are under the predictive group. They are all created with different development needs and expectations.