Microsoft
Dynamics 365 Consultancy Transform your current setup or new Dynamics 365 solution with our specialist Microsoft Dynamics 365 Consultancy. We have the knowledge and expertise to take you through this transformation smoothly, efficiently.

We'll be there every step of way!
Microsoft Dynamics 365 Consultancy Services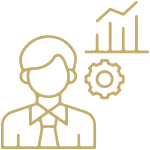 Our expert Microsoft Dynamics 365 consultants possess deep knowledge of D365 development, implementation & integration to empower SMBs & enterprises with custom solutions & modern CRM applications.
Whether on-premises or Online, deploy Dynamics 365 with our time-tested consultants who have industry-leading knowledge in custom Dynamics 365 consulting services.
Microsoft Dynamics 365 help you move away from the complexity and silos traditional ERP and CRM systems so you can focus on the things you enjoy about running your business and connecting with your customers.
Our consultants will transform your organization into a flexible, affordable driver of innovation so you can harness the power of your data to improve processes, spot trends faster, and outperform your competitors.
Our Specialist Team of Microsoft Dynamics 365 Consultants
Our Dynamics 365 Consulting team is formed of experienced Dynamics 365 Consultants, Functional Architects, Business Analysts, and Project Managers. They specialize in the deployment of both cloud and on-premise Dynamics CRM and all Dynamics 365 applications.
We are a team of experienced professionals with the knowledge and skills necessary to successfully implement Microsoft's Dynamics 365 applications. We specialize in both cloud-based solutions as well on premise installations, giving us an edge over our competition that only comes from years spent mastering these technologies!
Our consulting services include everything from business analysis through project management so you can feel confident knowing your company will be taken care off until 2022 or beyond – if needed.
Our Dynamics 365 Consulting Services
Our D365 Consultancy Approach
Achieve More With Our Consulting Services
Plan, automate and execute your marketing tasks from a single platform and integrate other applications with Dynamics 365 for your marketing needs.
Develop comprehensive custom reports to address your reporting needs to scale your business.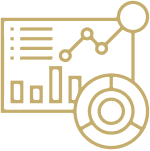 Create role-based custom dashboards that will enable you to present information that is relevant for each user.
Now build custom workflows and approvals to address & automate processes that are tailored to your business needs
With our event management framework built on the Microsoft Dynamics platform, organize events in a simplified manner and track registration, sponsors, attendees, sessions and measure event success
Implementation Course Correction
Our expert CRM consultants will review your system, perform a health check to better understand your unique issues to provide a successful implementation
READY TO ENGAGE OUR EXPERTS FOR ANY MICROSOFT DYNAMICS CONSULTING NEEDS?