Power Platform
Consultancy
Realize the True Value of Your Data with Our Microsoft Power Platform Consultancy - Drive Business Processes with Intelligence and accuracy.
Building Reliable and Affordable Power Platform Solutions
Future-proof your business and drive powerful growth by replacing outdated processes with bespoke business process applications built with our Power Platform Development service.
We develop your applications using Microsoft's Power Platform, which business owners sometimes aren't aware is a low cost inclusion in the Office 365 suite. Using the Power Platform enables us to develop high-quality applications quicker and at a fraction of the cost of a traditional software solution, developing in what is known as 'low code'.
Stallions Solutions' knowledge and expertise help you unlock the potential of the Microsoft 365 suite, talking you through some of the solutions that come directly off the shelf from Microsoft and building fully-functional applications where you need them, so that you can focus on what's important – running your business.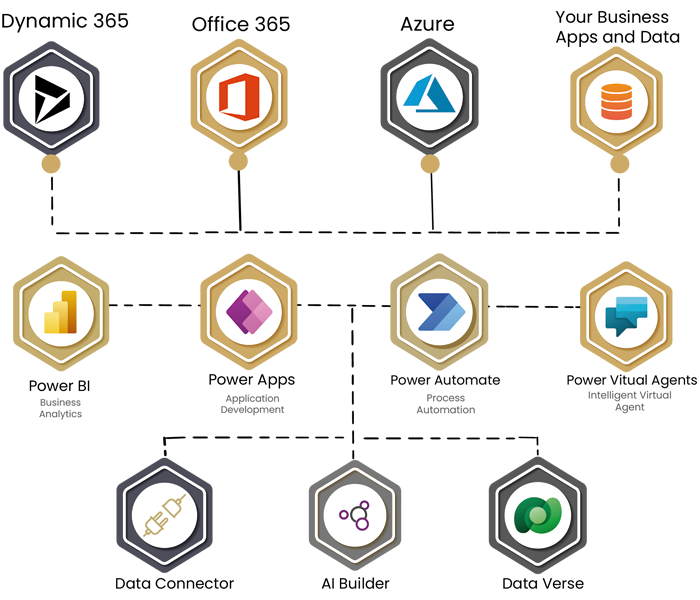 Microsoft Power Platform Development
Even though Microsoft Power Platform was designed to be low-code, building and customizing applications is harder than it appears to someone with little experience in systems development. It takes time to plan, execute, test, train users, and maintain applications. Unfortunately, your team may not have the skills, expertise, or maybe time. This is where Stallions Solutions step in! We have been developing business solutions for over a decade. We are here for you to guide and support you every step of the way.
Automate Your Business with Power Platform
By upgrading to Microsoft Dynamics 365, you can gain a competitive advantage and access platform-level benefits. Stallions Solutions, a trusted Microsoft Gold Partner, can help optimize your business with custom solutions using the powerful Microsoft Power Platform.
Unify and automate your business operations with the Microsoft Power Platform, consisting of Power BI, Power Apps, and Power Automate. All apps work seamlessly with Microsoft Dataverse, enabling data integration and customization for Microsoft 365, Dynamics 365, and Azure
Why Choose Stallions Solutions forCloud Migration?
Application Modernization
With Microsoft Power Platform, your team can build connected apps and processes more rapidly on the foundation of the Microsoft Dataverse. These can replace scattered data in legacy systems like SharePoint or Excel providing improved scalability, security and efficiency.
Unify and Automate Operations
Integrate your various Microsoft and third-party applications and extend their capabilities using the Microsoft Power Platform. This way, you can connect your data across applications and automate processes, freeing up your employees' time while providing cross-unity business insights.
Building, deploying and integrating mobile or web apps for specific business units and processes has never been easier. As your business grows and your needs evolve, the Microsoft Power Platform gives you the flexibility to quickly adapt your applications. With Microsoft Power Platform, you don't have to worry about processing, database scalability or technical infrastructure.
The 360 visibility into your organization, all its business units and data give you unprecedented power to make informed and timely decisions to scale your business to new heights. With the Microsoft Power Platform, you can also grow smarter by adapting processes and information flow, so your growth do not stops.
READY TO START YOUR NEXT MICROSOFT POWER PLATFORM DEVELOPMENT?
Achieve Success With Stallions Solutions, Trust Microsoft Gold Partner
Whether you're just getting started or looking to enhance existing solutions, you need to work with a trusted partner to get the best ROI from your Dynamics 365 technology investment. As a leading Microsoft Partner, we deliver Expert guidance and support in selecting, implementing, and optimizing Dynamics 365 Solutions tailored to meet your business needs. Our team of ERP and CRM Solution Experts have the experience, business and technical knowledge to design and implement best-in-class solutions.
Industry Knowledge Expertise
With over 100+ implementations, our experience across various industries, including retail, manufacturing, and services, position us to expertly deliver any project across the globe using a mix of both offshore and onshore resources.
Comprehensive Structured Approach
We meticulously assess your business environment and propose a pragmatic approach as per the complexity and size of your organization to ensure a swift, smooth, and secure deployment.
Microsoft Dynamics Expert
At Stallions Solutions, we believe that every business is unique. Our team of experts brings together the right mix of technology and operational know-how to resolve the most complex business challenges.