Microsoft Dynamics 365 for Finance and Operations: Features that Boost Finance Team Productivity
Enterprise resource planning (ERP) solution has become a critical requirement for every business nowadays. You can confirm this by the projection that the global ERP software market is expected to reach $78.40 billion by 2026!
But as businesses continue to get more savvy in their ERP usage, they demand more features to increase their finance team productivity. The finance and accounting team is the backbone of any organization. And rightly so, since they maintain financial statements, prepare balance sheets, cash-flow reports, day-to-day record keeping, and reporting that require accuracy.
It wouldn't be wrong to say that the organization's health depends on the finance team's assessments and insights. It gives you enough reason to look toward a robust ERP solution for finance and accounting.
This brings the spotlight on Microsoft Dynamics 365 for Finance and Operations!
Dynamics 365 for Finance and Operations is a cloud-based ERP system well-suited for large or diversified companies. It offers you the ability to keep track of all your finances and inventory. 
But how does Dynamics 365 for Finance and Operations increase your finance team productivity? We'll discuss precisely this in this article.
Exchange Rate Integration
Is your finance/account team maintaining exchange rates manually? No more! With Microsoft Dynamics 365 for Finance and Operations, you can now seamlessly integrate with exchange rate providers such as OANDA. This saves your finance team's effort and time.
Such integration is highly beneficial if you trade in different currencies, which requires additional labour from your finance team.
Global Entry Forms
There is a dire need to optimize human resource utilization; Dynamics 365 for Finance and Operations cater this need to the next level. It offers the convenience for users to seamlessly create purchase invoices for purchase orders, or enter a journal entry in other entities, avoiding the hassle of needing to switch between multiple legal entities/companies.
Advanced Bank Reconciliation
The advanced bank reconciliation feature is one of the most important ones for improving the productivity of finance teams. It serves an increased need for accurate reconciliation between bank account statements and the ERP system.
Previously, each transaction from the bank statement needed to be manually matched with each transaction in the system, making it a protracted and painful process. Advanced bank reconciliation feature offers industry-wide accepted bank statement formats (viz., MT940, ISOXMl2022, BAI, etc.).
You can then import these formats into Dynamics 365 for Finance and Operations with rules defined to match by either amounts and/or dates.
Localization
Each country or region has certain statutory requirements that need to be adhered to for ERP implementation. Dynamics 365 for Finance and Operations can intelligently generate reports that are specific to each country's regulatory requirements.
Budget Planning and Control
Dynamics 365 for Finance and Operations built-in capabilities plan your budgets. At the same time, it has different levels of workflow stages for approvals.
Also, you can now maintain tighter control on the expenditure for project cost control and purchasing cost control. These features give you more visibility and transparency into your company expenses.
In-built Audit Workbench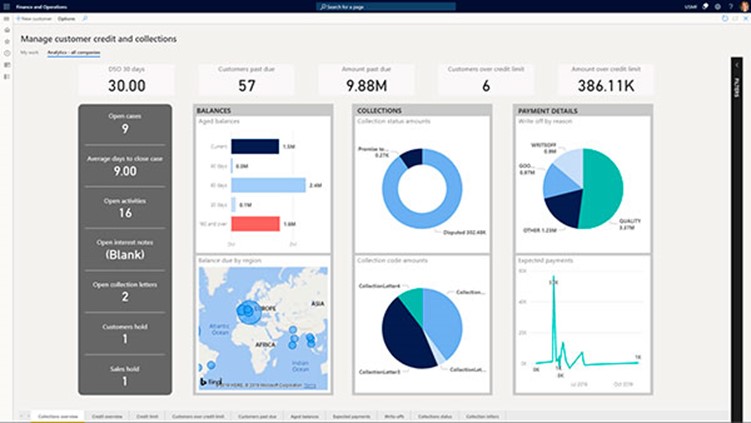 Organizations strive to keep tighter auditing controls to avoid duplicate vendor invoices. Not only that, but they try to monitor high spenders and duplicate expenses vigilantly.
Dynamics 365 for Finance and Operations provides you an in-built audit workbench to run sampling and provide additional controls and visibility to the finance team.
Management Reporter
Management reporter is the financial reporting tool of Dynamics 365 for Finance and Operations that allows you to configure reports according to your organization's requirements.
As a result, your developers don't have to develop a balance sheet or income statement, etc. Furthermore, you can schedule these reports and generate consolidated reports using financial reporting.
Dynamics 365 for Finance and Operations – Maximize the Efficiency
The features listed above substantially boost the productivity of your finance team. On top of that, Dynamics 365 for Finance and Operations offers flexible cost allocation features, analysis of various cost objects, and access to customer aging in a single view across legal entities.
If your organization needs the most sought-after Dynamics 365 for Finance and Operations module, reach out to the experts at Stallions Solutions