An Overview of the Microsoft Power Platform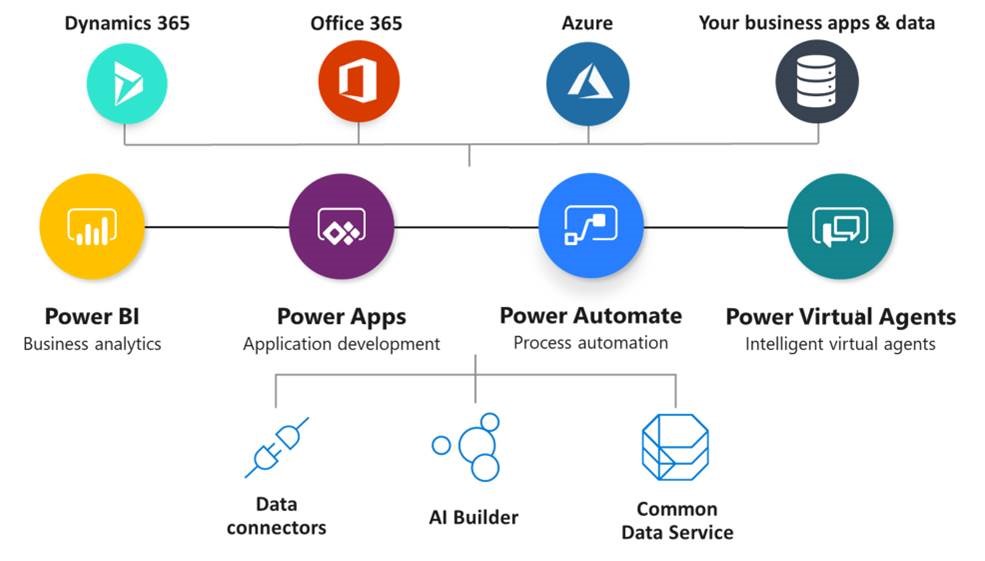 What is Microsoft Power Platform?
The Microsoft Power Platform is a robust set of applications that allow you to automate processes, build solutions, analyze data, and create virtual agents. The 'Power Platform' is a collective term for three Microsoft products: Power BI, PowerApps, and Power Automate (previously known as Flow). They provide the means to help businesses easily manipulate, automate and analyze data and can be used with Office 365 and Dynamics 365.
The idea of the Power Platform came from this vision of recognizing that organizations have an increasing flow of data everywhere. The belief that organizations can harness data and gain insights to drive intelligent business processes is where Power Platform fits in.
The Power Platform has four major components:
Power BI, which is a business analytics tool
Power Apps – it is application development for low code to no code
Power Automate – it enables process automation
Power Virtual Agents – these are intelligent virtual bots
There are over 275 different data connectors that connect all this data – inherently built for Power Platform. It is then taken to the next level by adding Artificial Intelligence (AI) to render logic around it. All this data is secured in Microsoft Dataverse. As all the data resides in one primary data collection, it can be accessed across any application.
Now let's discuss all the components of Power Platform one by one.
Microsoft Power BI is a suite of business intelligence (BI), reporting, and data visualization products and services for individuals and teams. Power BI stands out with streamlined publication and distribution capabilities and integration with other Microsoft products and services.
Power BI allows you to see interactive real-time dashboards and gives you insights into the information you're trying to see in a single glass pane. Irrespective of where your data resides, you can gain insights from Power BI. It connects and consolidates your data to give you a fuller view of your business. With such smart insights, you can drive actions and make informed decisions.
There are common data sources within Power BI, for example, your Dynamics environment or SQL database. All these data sources and methods can together give you that one image. Furthermore, Power BI dashboards can also integrate with other cloud-based solutions along with some legacy apps that can also be connected if they have REST API.
Want to build applications that do not take months but require a lot of development work to do? This is what Power Apps are for! It gives you the ability to build no-code or low-code applications. It presents a minimalistic code to build intelligent applications that is the logic of your business. These applications can then be used on different devices like Android or iOS operating systems.
Not only this but you can also do highly customized tasks. Power Apps start from your data and data model and then move all the way to your business processes across multiple devices. One of the most vital qualities of Power Platform's components is robust security. In Power Apps, you can manage enterprise security, management, and control through Azure Active Directory.
Moreover, you can get full audit logs, employ analytics, and put data prevention policies in order to manage your data through the admin center. All this provides you with the experience to centrally manage your apps inside or outside your organization.
If you want to get rid of rudimentary manual tasks and eliminate manual errors, Power Automate is your thing! It is a powerful workflow automation tool that lets you connect different systems together to utilize that data productively.
Power Automate allows you to automate and build business processes across your apps and the services that you have already deployed. These can vary from simple automations to very advanced scenarios like creating branches or having different trigger responses and trigger actions. Power Automate attributes also include connecting business data with impregnable security and making this data meaningful for your organization.
Lastly, Power Automate allows you to build custom workflows or custom applications. Its strong data connectivity and seamless integration give you a fuller and intelligent experience.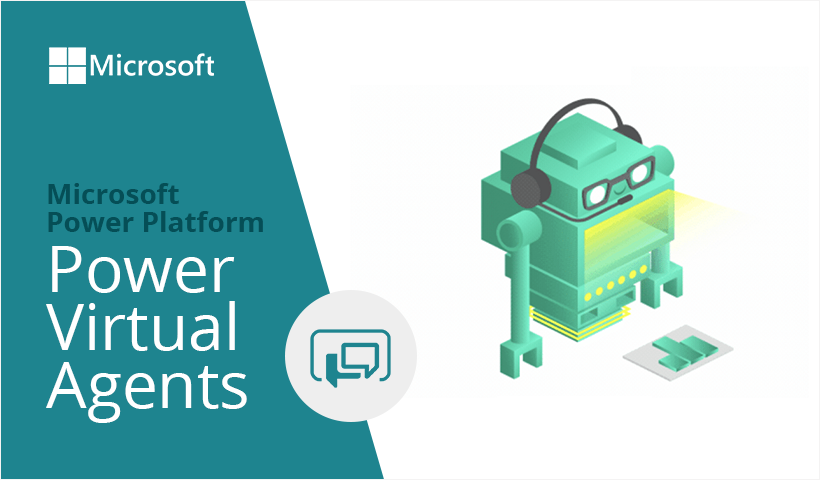 Power Virtual Agents are intelligent virtual bots that can communicate and do a lot of the work that you might need to do manually or hire someone else to do by using a robot online. Now respond rapidly to your customer and employee needs – at scale – using intelligent chatbots built with Power Virtual Agents.
Power Virtual Agents allows you to create bots that can help answer questions from your customers, employees, or viewers of your website. These powerful chatbots use built-in content building blocks, trigger phrases, and pre-authored bot conversations to keep you connected in real-time.
What's Next?
The possibilities are endless when you combine components of the Power Platform with your existing Microsoft solutions. The Power Platform has many exciting possibilities and implications, but it can be challenging to know where to start or what it could do for your organization. If you would like to find out more about the Power Platform or discuss a potential idea, please get in touch with us today.