Dynamics 365 Modules – A Brief Overview of ERP and CRM Solutions
Does your organization have existing in-house ERP or CRM solutions? Are you now willing to adopt business applications!
Enter the Microsoft Dynamics 365!
Dynamics 365 is from the Microsoft family of business applications. If you need the flexibility to scale up and wish to turn your business process into a business advantage, Microsoft Dynamics 365 is the ideal solution for your organization. It has different modules for ERP and CRM in a single cloud-based solution.
But what exactly is Microsoft Dynamics 365 and its modules?
Let's dive right into it…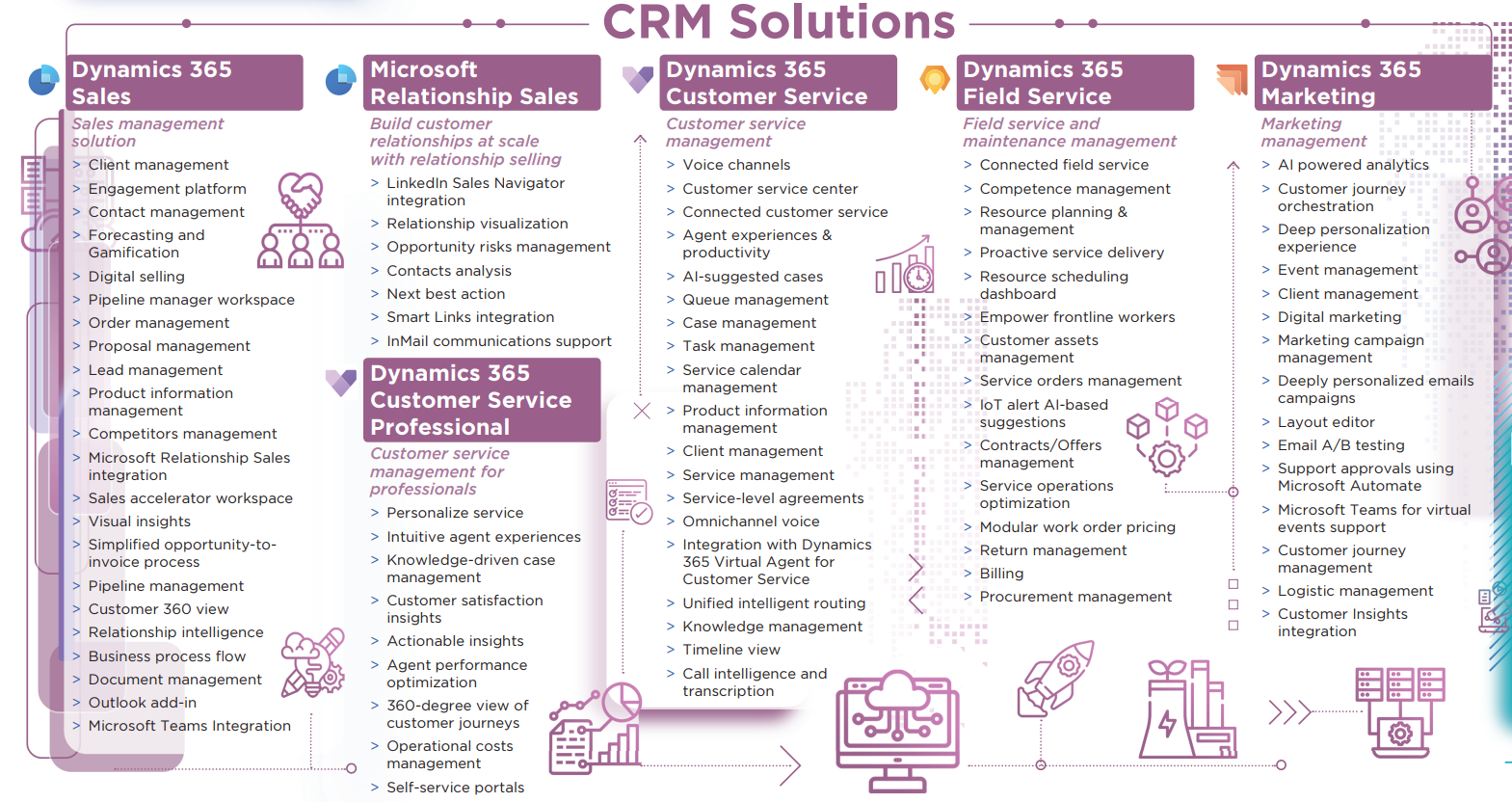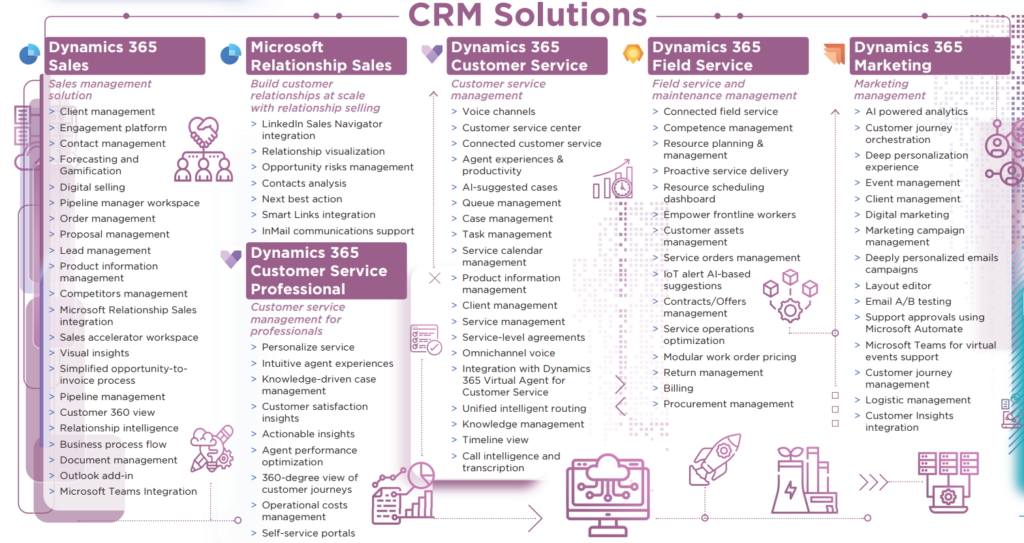 Dynamics 365 is a set of interconnected, modular SaaS applications and services that transform your core business activities. It effectively combines your ERP and CRM capabilities, integrates your data and business processes. It automates and integrates your sales and marketing capabilities to increase your conversion rates.
Built on the pillars of Microsoft Azure, it offers a broad ecosystem of services. Not only that, but it integrates with your Microsoft productivity apps. This way, you can manage your customers and services in a unified manner.
Microsoft Dynamics allows you to store all your business and customer data in just one solution for efficient process planning, understanding your customers, and making intelligent decisions.
D365 is pushing digital transformation to acquire higher efficiency and productivity. Have a glance at what it offers:
Experience seamless connectivity
Shorten your sales cycle
Deploy and scale easily
Boost ROI
Improve customer experience
Increases social engagement
Flexibility
D365 has evolved to become a great force of reckoning from its competitors. One of the unique features it offers is flexibility. Practically speaking, it renders the flexibility of deployment. You can either choose on-premise, partner-hosted or cloud-based. Regardless of what you choose, all are cost-effective.
Modularity
Once Microsoft Dynamics 365 unites all your business areas in one solution, your company grows. You can mix and match the modules you actually need to simplify your business processes and improve efficiency.
Common Database
In order to prevent silos, Microsoft Dataverse not only stores and secures your data but also synchronizes your business core data from all Dynamics 365 modules.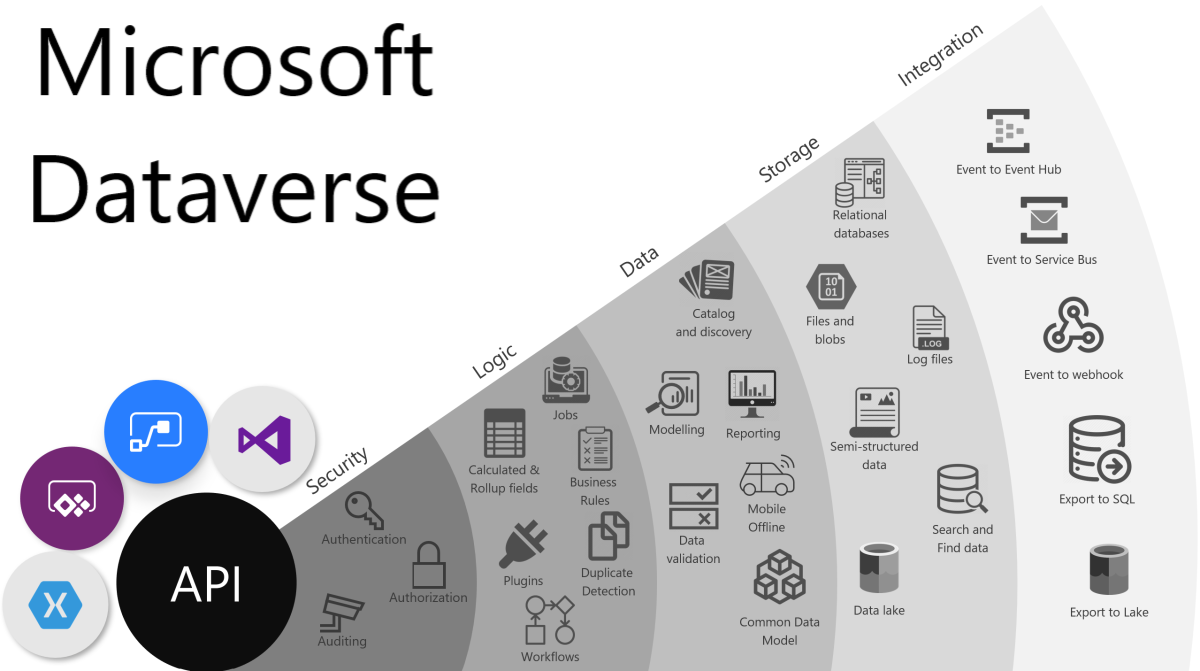 So what is Microsoft Dataverse? Simply put, it is a base of Dynamics 365 that stores and secures data from one or more modules. It sorts the data into "Tables." These tables are constantly synchronized to avoid silos. It stores the standard data to store in several tables.
Power Query allows you to extend your standard data so that you can use that data on the Power Platform. Fundamentally, Microsoft Dataverse keeps your stored data safe and secure.
The Benefits of Microsoft Dataverse
Instead of relying on different devices and applications, it provides a single data source
It is a base for developing new Dynamics 365 applications
It offers consistent data since your business core data is in Dynamics 365 modules
It is available worldwide
There is no need for integration
But How Much Does Dynamics 365 Cost?
Since Dynamics 365 is a cloud-based service (Software-as-a-Service), you do not have to buy any software. This means that there is no purchasing cost. Instead, Dynamics 365 offers a subscription model; you just have to pay for the number of licenses you need.
You have to purchase the base license at full price
You can purchase the Attach licenses (additional licenses) at a reduced price
You can also acquire the team member licenses for a lower price as well
Overview of All Dynamics Modules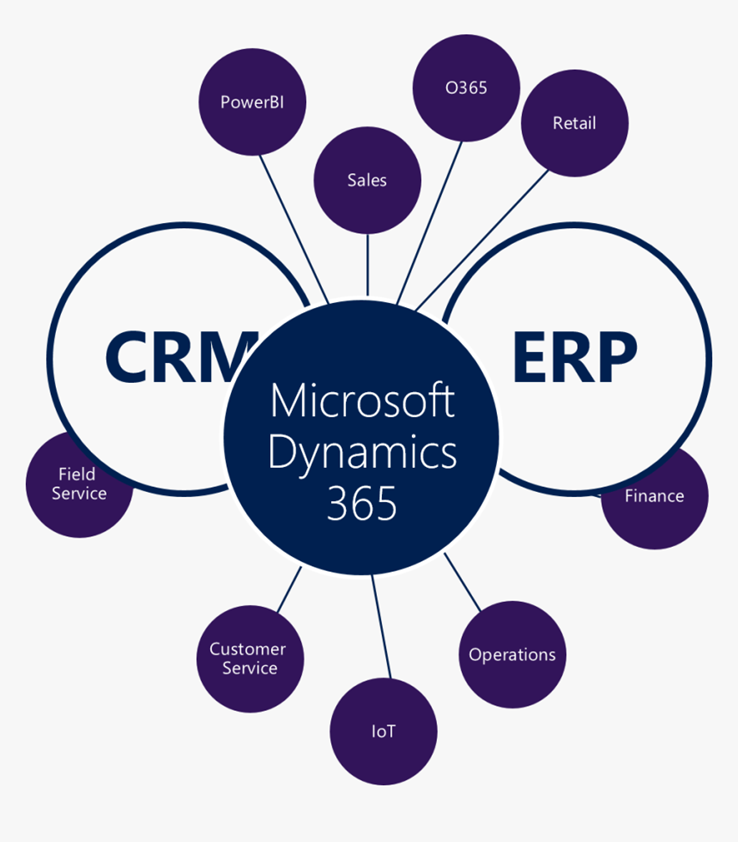 Dynamics 365 Sales
Keeping track of all your sales has never been easy with Microsoft Dynamics Sales. You can get more transparency, maintain a dashboard, and score leads through the roof!
Manage all your sales processes
Lead scoring
Email tracking
AI assistance
Prognoses of sales
Dynamics 365 Customer Service
Your customers' needs come first, right? Let Dynamics 365 Customer Service do that for you! With its priority on rendering a top customer experience, it offers fast and reliable support. Artificial intelligence gives you the edge in taking preventive care of problems in the background. Furthermore, automation provides help on complex support issues.
Omnichannel service
Customer insights
Self-service portal
Chatbots
SLAs (Service Level Agreements)
Dynamics 365 Field Service
Microsoft's Dynamics 365 Field Service module effectively takes care of organizing and coordinating your technicians' appointments and routes. You can now make your on-sites visit more productive and easier exchange of information between your company and customers. Consequently, your customers are happier!
Interactive maps
Manage bookings and orders
IoT technology
SLAs (Service Level Agreement)
AI assistance
Dynamics 365 Marketing
With Dynamics 365 Marketing, you can cover the complete marketing processes of your business. It comes in handy in automating your marketing, managing your events, and social media.
Manage events
Create landing pages
Email marketing
Lead scoring
Interacting customer journey
Dynamics 365 Finance


If you are a medium-sized to large business, then Dynamics 365 Finance is right for you. You can plan your budget, automate and optimize your processes.
Automatic billing
Plan your cashflows
Create reports
Country-specific options
Prognoses
Dynamics 365 Supply Chain Management
You recognize the fact that well-running processes make your assembly line more efficient. You can now optimize your supply chain processes with Dynamics 365 Supply Chain Management module. It makes use of technologies like IoT and machine-based learning.
Inventory and resource planning
Centralized information
Set up smart processes
Optimize stocks and logistics
Dynamics 365 Commerce
You can run your offline or online shops with Dynamics 365 Commerce module. Once you provide your customers an excellent online experience, they'll turn into your fans.
Provide an excellent customer experience
Omnichannel communication
AI assistance
Ecommerce functionalities
Dynamics 365 Project Operations
Dynamics 365 Project Operations allows you to visualize and plan your projects. Now you can productively execute your tasks and keep track of your resources and project changes. It ensures the timely completion of your projects that saves time and budget.
Project management
Contract management
Time tracking
Tasks management
Optimization of project financials
Dynamics 365 Human Resource
Finding and hiring the top talent has always been a challenge for companies. With Dynamics 365 Human Resource, you can now manage your recruitment and onboarding processes.
Manage employee profiles
Holidays tracking
Manage seminars and holidays
Payroll and budget management
Tax return management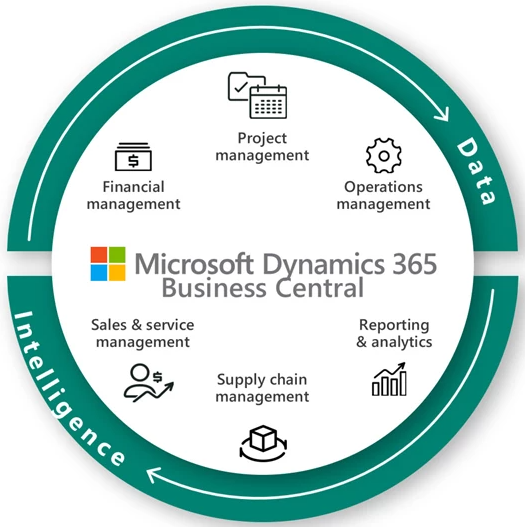 ERP is equally as important for small and medium-sized businesses as it is for large organizations. This is where Dynamics 365 Business Central comes in! It offers a comprehensive view of your organization with well-planned planning of processes.
Accelerate sales processes
Project management
Optimize supply chains
Customer service
Manage finances