Microsoft Power Platform is like a toolbox in the cloud. It has tools and services that help companies look at data, make virtual assistants, automate tasks, and create solutions. This toolbox has four main apps: Power BI, Power Apps , Power Automate, and Power Virtual Agents.
The platform helps businesses automate operations, improve data analysis, connect critical systems, and transform operations using Hyper Automation, Artificial Intelligence (AI), and Mixed Reality combined capabilities. Overall, Microsoft Power Platform provides a comprehensive range of tools that may assist organizations of all sizes in optimizing their processes, gaining deeper insights, and increasing productivity. This blog offers a comprehensive overview of the new power platform features.
Power Platform Pipelines
The Power Platform Pipelines provide:
CI/CD features like those found in Azure DevOps
Allowing for seamless deployments across the development
Testing
Production environments
It allows organizations to use Azure DevOps functionality within Dynamics, managing Dynamics, Power Apps, Power Automate, and other installations. It also helps organizations reduce ownership costs, accelerate deployment times, and maintain quality and cost efficiency. For example, the components deployed using Power Platform Pipelines are not limited to Dynamics entities and components. Power Virtual Agents (bots), Power Pages, Power Apps, data flows, and connection references are also included.
Power Platform Pipelines come with a licensing cost associated with managed environments. Environments that are not recognized as "managed" cannot use the Power Platform's functionalities. Development and testing environments do not require premium licenses during the preview period.
New Security Role for Mailbox Approver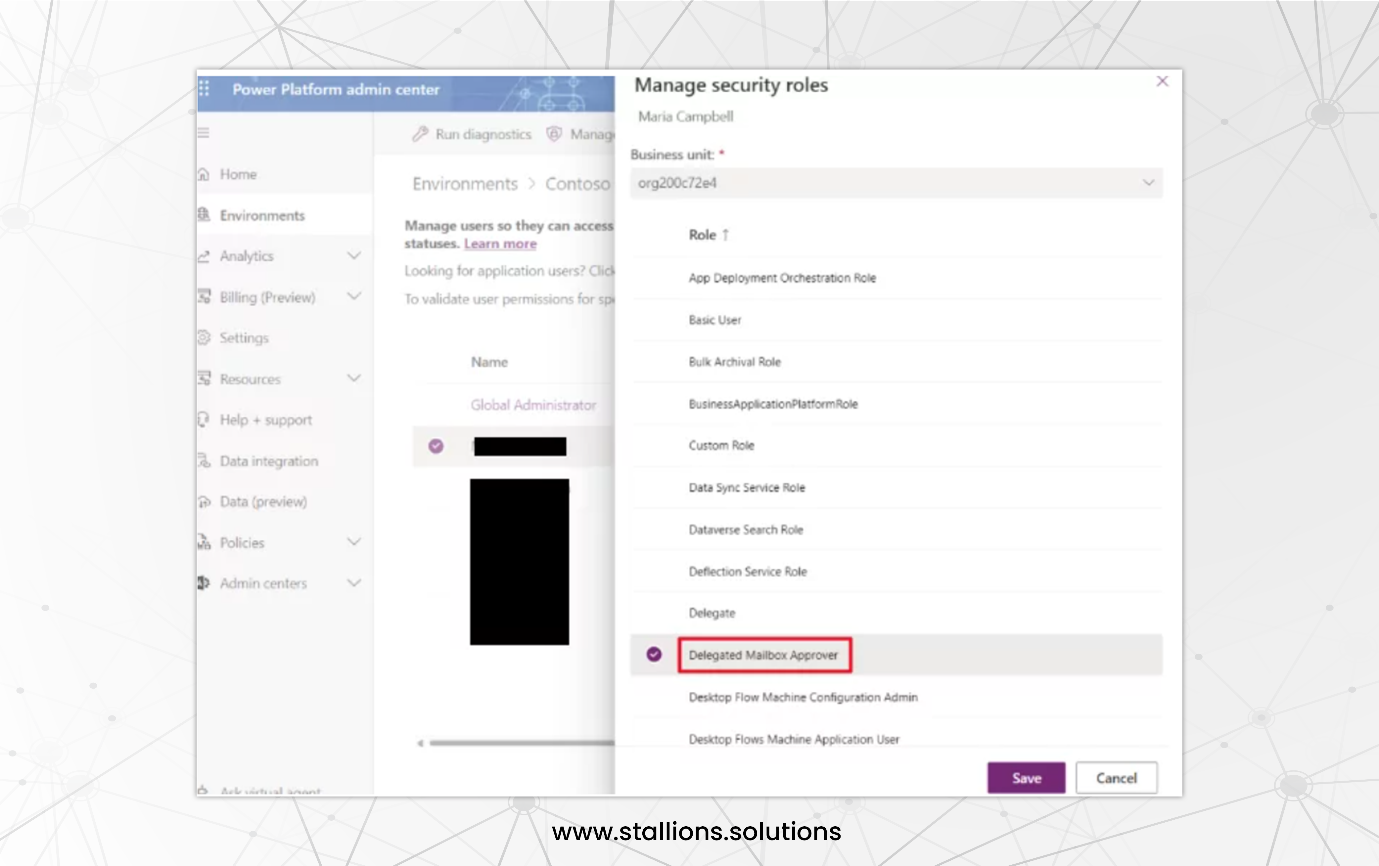 Previously, only the global or exchange admin could approve the mailbox record associated with a user in Dynamics CRM, allowing them to send or receive emails and synchronize appointments, contacts, and tasks with Exchange Online. Once a mailbox was approved, the user could send emails by interacting with the relevant mailbox in Exchange Online.
However, Microsoft added a new security role called "Delegated Mailbox Approver" as an improvement. This update tackles the issue of continuously requiring a global admin to authorize mailboxes. With this change, a global admin can transfer approval authority by assigning a user the "Delegated Mailbox Approver" role. Users with this role can independently authorize emails.
Omnichannel – Show Record Details During Team Meeting (Preview)
Agents can now communicate more efficiently with their internal teams and access Dynamics records, boosting their capacity to serve customers, because of the integration of Omnichannel and Teams.
Before, during, and after client meetings, support agents may easily access and change information in Microsoft Teams using the newly introduced Teams meeting feature. A sales or service person can start a Teams meeting straight from a contact, lead, or account record's timeline management. This action will immediately integrate the Model Driven App related to that record. Furthermore, users have the option of manually integrating an app either before or during the Teams meeting. Agents can update client data, take notes, and add tasks or activities relating to the customer's record throughout the meeting.
Conclusion
The Power Platform keeps changing introducing new features and improvements to fulfill user needs, particularly in the fields of mailbox approval and pipelines. With the introduction of Power Platform pipelines, deployments become more efficient, addressing requirements for continuous deployment (CD) across many different solutions such as Dynamics CE, PVA, Canvas applications, Power applications, and others. More developments, such as adding an approver and different integrations, are promised for the platform. As we expect additional developments in subsequent releases, it is important to collaborate with specialists who can help you through these changes.
Do you want to learn more about Power Platform? Learn more about how Stallions Solutions' customized Power Platform services may improve your experience.